EARNHARDT JR. READY FOR CHALLENGE FROM TEXAS MOTOR SPEEDWAY RENOVATION PROJECT DURING NEXT WEEK'S  O'REILLY AUTO PARTS 500
Press release from Texas Motor Speedway Media
Earnhardt Jr., Rahal And Byron Visit Dallas For Sold-Out No Limits Luncheon At Gilley's To Preview Upcoming TMS Season
By John Sturbin
DALLAS (March 30, 2017) – NASCAR superstar Dale Earnhardt Jr. is one week away from his next career challenge – the repaved and re-profiled racing surface at Texas Motor Speedway.
Earnhardt and his Monster Energy NASCAR Cup Series peers will roll onto the 1.5-mile oval in Fort Worth as group on Friday morning, 
April 7
 for their first hot laps on a track that has undergone a complete offseason repaving, installation of an extensive drainage system and a reduction in the traditional banking in Turns 1 and 2 from 24 to 20 degrees.
"I haven't seen the track yet, but the repaves are a bit of a challenge for everyone because there's obviously not a preferred groove," Earnhardt Jr. said during the media session prior to Thursday's No Limits Luncheon that served as a season preview for the speedway. "I know they worked hard to try to speed up the aging process to give us the ability to widen the groove.
"As a driver, you're always excited by what might be better, so I'm anticipating getting on the track and getting some laps."
The O'Reilly Auto Parts 500, scheduled for 334 laps/501 miles, will take the green flag 
Sunday, April 9
, at 
12:30 p.m. CT
 (TV: FOX, Radio: PRN, Sirius XM Channel 90, locally 95.9 FM The Ranch).
Earnhardt Jr., who scored his first NASCAR XFINITY and Cup Series victories at TMS, hasn't won at "The Great American Speedway" since 2000. But he did finish second in last April's Duck Commander 500 in his most recent on-track appearance at the venue.
"He's the biggest name in the sport, without question," TMS President Eddie Gossage said. "There's definitely a connection (with Junior) because winning didn't just happen once, it happened twice in two different series. I was a Bristol when Dale Sr. won his first Cup race and forevermore Dale Sr. and Bristol were linked together. I'd like to think forever we'll be linked to Dale Jr. He earned it on the race track."
Earnhardt Jr., driver of the No. 88 Axalta Chevrolet SS fielded by Hendrick Motorsports, said he has wheeled several competitive cars in Fort Worth since that breakthrough win.
"I don't know how close we are to the next one, you just keep showing up," Junior said. "I think we're a team that can win pretty much anywhere we go. There's a lot of teams like that on the circuit, which is a problem.
"This place definitely has always been one of my preferred stops because of the success we had in the XFINITY Series and Cup Series – you never forget where you won your first race, and neither do your fans. So I always look forward to coming here. This is a track that really puts on a good show and before the repave it was a very wide race track and you could use a lot of different lines and it was so much fun. I think the track will still be that way. This place is going to maintain its character and personality. The asphalt is new but it'll age with the weather out here and the environment, it'll speed up that process."
The first five Cup events of 2017 have produced five different winners. Earnhardt Jr., who finished 16th in last Sunday's race at Auto Club Speedway in Fontana, Calif., counts himself among the 20 to 25 cars that have a chance to win every week.
"I've been around the sport a long time and in the '70s there might have been six (cars capable of winning); in the '80s there might have been 12," he said. "With the cars getting faster…we've slowed down the cars a little in the corners with the aero package, but they're still much faster than over the last decade. Passing becomes more challenging and it just makes the competition even tougher."
Earnhardt Jr. is 21st in Cup points with 91, or 152 behind Auto Club Speedway winner and leader Kyle Larson of Chip Ganassi Racing.
NOTE: High-res photos and video from Texas Motor Speedway's "No Limits" Luncheon are available by clicking here. 
JUNIOR COMPETING CONCUSSION-FREE: Earnhardt Jr. confirmed he has fully recovered from the concussion-like symptoms he began experiencing after a crash at Michigan International Speedway in June.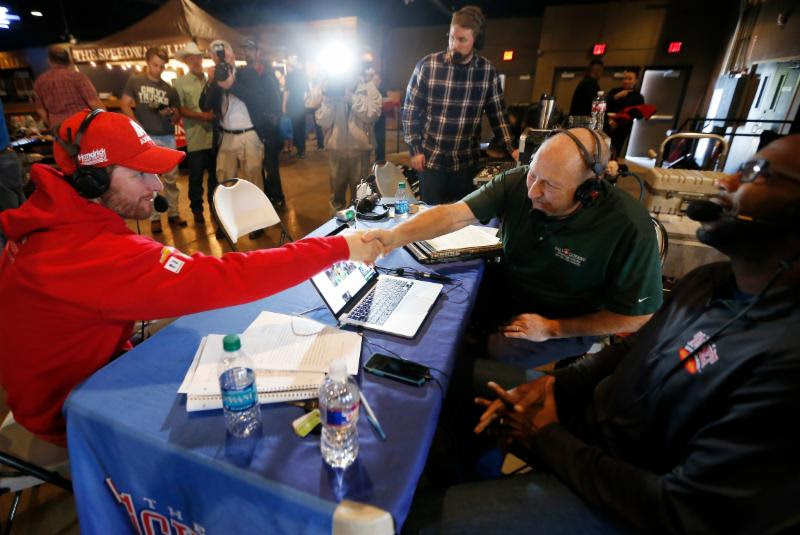 "I don't think I'd be in the car if I wasn't (fully recovered)," he said. "You can't get out there with any kind of limitations or disability. I definitely wouldn't want me in the car if I wasn't 100 percent. There's too many good drivers out there that could do a better job than me if you're not 100 percent. We tested in the offseason and checked all those boxes and felt good about what I was feeling then. I've felt great all season, had a good time in every race. I'm confident we'll get what we need (speed-wise) and figure out this new aero package at all these tracks and start running well."
He downplayed the notion he did anything heroic when he sought medical help, and then agreed to sit out 18 races while recuperating. He returned to the series with the season-opening Daytona 500.
"Concussions weren't common, but there wasn't a popular method of how to approach concussions, other than to wait it out, wait for it to go away," Earnhardt Jr. said. "You didn't hear the horror stories you hear today. You didn't hear about the long-term effects. We were just so uneducated about it. The reason why I went to get help was basically I was incapacitated. I couldn't do my job, much less typical everyday things. I had to seek help. There wasn't no hiding my symptoms…you kind of get scared into getting checked out. You want to get some professional help.
 "So it's hard for me to take credit for doing the right thing because I was scared into that situation. I was desperate to get something figured out and get some treatment to fix it. Every condition is different and gives you something new. It's kind of like walking through a haunted house; you don't know what's going to jump out at you and what the experience is going to be like. That scares you; that gets you right in front of the doctor quick."
BYRON SETTLING IN AT JR MOTORSPORTS: NASCAR XFINITY Series rookie contender William Byron is adjusting not only to a new series, but also to a new team. Byron exited his NASCAR Craftsman Truck Series ride with Kyle Busch Motorsports at the end of the 2016 season to join JR Motorsports, an affiliate of Hendrick Motorsports.
Byron will return to Texas Motor Speedway for the My Bariatric Solutions 300 on 
Saturday, April 8
, as driver of the No. 9 Axalta/Liberty University Chevrolet SS. Byron scored seven truck series wins in Busch's Toyota Tundra last year, including the Rattlesnake 400 night race at TMS in June. XFINITY Series regulars will log their first practice laps on TMS' repaved and re-profiled 1.5-mile oval on 
Friday, April 7
, at 
1:30 p.m. CT
.
"I'm really looking forward to just start the new chapter of the race track," said Byron, the XFINITY Sunoco Rookie of the Year leader with 72 points, 17 ahead of Daniel Hemric. "I have a good history with the victory here in June and hopefully I can carry some of that confidence into this year. We've had a couple top fives to build on."
Byron also has logged four top-10 results and one pole this season.
Byron believes TMS' new surface, now featuring banking reduced from 24 to 20 degrees in Turns 1 and 2, will be similar to Speedway Motorsports Inc. sister track, Kentucky Speedway.
"We had success at Kentucky – we won that race – so hopefully it's like that repave," Byron said. "Judging off how the track (TMS) looks, it looks like it doesn't have a ton of grip like normal repaves so I think it's going to produce some good racing. Hopefully the groove is two wide and you're able to race side by side. Repaves are always pretty good races – everyone's on edge so it makes it interesting."
Byron said he definitely is benefitting from working alongside JRM teammate Elliott Sadler, a former TMS Cup winner who currently has a 189-172 point lead over his protégé.
"Elliott Sadler has been helping me so much," Byron said. "We're able to talk about restarts or what happened last weekend, little things that make a big difference, knowing what to do inside the car with switches, how to get the best restarts, how to communicate with your team. He's been a great resource."
Byron added the same holds true with team owner Dale Earnhardt Jr.
"It's really cool. He's really involved with our team," Byron said. "I grew up watching him and now being able to talk to him and get to know him and talk about racing, just trying to learn from him."
Despite finishing a strong fifth in the final NCWTS standings last year, Byron said it was a "no-brainer" to accept team owner Rick Hendrick's offer to join his championship-winning juggernaut.
"With the people I have around me, I have a ton of support," said Byron, who won't turn 20 until late November. "There's a transition period that's difficult as a rookie, but that's mainly on my end. There's really a system there in place for someone like me to come in. It's been good getting to know my guys and we're working well together. We have a great program at JRM and we're hitting our stride."
RAHAL READY TO REPEAT ON THE REPAVE: 
Graham Rahal still is catching his breath after his victory in last summer's Firestone 600 Verizon IndyCar Series race at Texas Motor Speedway. The race will be run the evening of 
Saturday, June 10
, with a new sponsor and titled the Rainguard Water Sealers 600.
Rahal captured his lone win of 2016 on TMS' 1.5-mile oval in late August, two months after "America's Original Nighttime IndyCar Race" was postponed by two days of rain in June. "The Resumption" saw Rahal edge James Hinchcliffe by 0.0080 of a second to establish the record for the closest INDYCAR finish in TMS history and fifth-closest in Indy car history.
"Last year, great memories to get the win," said Rahal, driver of the No. 15 Steak n' Shake Honda fielded by Rahal Letterman Lanigan Racing. "This place has been tough before and last year rewarded us. But we're going to have to focus pretty hard on the repave. I anticipate the race will be even crazier than what you saw at the end of last season. The repave is going allow us to go, potentially, even more cars wide. I'm anticipating you'll have a little more grip just because it's new. The old track was pretty rough on top of (Turns) 3 and 4 and our cars, as low to the ground as we run, made it difficult. I hope that's a little better this year."
In addition to a complete repaving, Turns 1 and 2 have been re-profiled from 24 to 20 degrees; Turns 3 and 4 have retained their 24-degree banking.
"It's going to be exciting to go out there and see the facility all done-up and looking good," Rahal said. "We're going to get to test (
April 12
) after the Cup race and I would think it's going to change things for us quite a bit. From a (Firestone) tire perspective, it's going to be relatively the same but with new pavement you're going to have to adjust.
"I hope the end result is the same as last year. It was one of the most exhilarating races you could ever watch. I mean, I heard from fans of all types that last year's INDYCAR race here was one of the top three races they've ever seen in their lifetime."
Rahal, who finished 17th in the season opener on the Streets of St. Petersburg, Fla., on March 12 after contact in the opening laps, noted that last summer's race was different than the hair-raising "pack racing" made famous at TMS a decade ago.
"It's edge-of-your-seat racing, but it's also clean," Rahal said. "There wasn't too much bumping and banging, which we don't need in our cars. Guys were giving each other room and guys were having a blast. The fans love it. The response to the video on my Facebook page (of the final 10 laps), it had over 2.5-million impressions in just a few days.
"People are attracted to that style of craziness. So if it's safe and if it's fast, it'll be fine with us. The new car (for 2018)…that car is going to produce even closer racing the way it develops downforce.  So I would anticipate the racing over the next couple of years is going to get better and better and better."
GOSSAGE "JACKED" BY SEASON OF CHANGE: As the NASCAR tour prepares for its first 2017 visit to the Dallas-Fort Worth market, TMS President Eddie Gossage is all about change.
That begins, of course, with a repaved and re-profiled 1.5-mile Texas Motor Speedway.
"Any fan or reporter using the term 'cookie-cutter,' all they're doing is showing they don't know the sport," said Gossage, reiterating one of his pet peeves. "If you're going to call it a 'cookie-cutter' now, you're Stevie Wonder. Even he could tell the difference."
Gossage noted the decision to reduce the banking in Turns 1 and 2 from 24 to 20 degrees was made by Marcus Smith, Speedway Motorsports Inc., CEO and son of founder and executive chairman O. Bruton Smith.
But Gossage also is excited about all that's new with NASCAR.
"It's a season of change in NASCAR with a new series sponsor (Monster Energy); we've got a new race sponsor with O'Reilly Auto Parts and we've got a brand new race track and a new format for the sport (segment racing). I'm really jacked up over the start of the NASCAR season so far – five races, five different winners. Guys you typically expect to be at the front of the pack they're not. You got young guys that are winning races that are the future of our sport and they're showing why they're the future of our sport.
"Since the track is different – not just the asphalt but the re-profiling of Turns 1 and 2 – whoever's been good in the past, that doesn't mean anything as to who's going to win next week. It could easily be a Kyle Larson, a Ryan Blaney, Erik Jones, Chase Elliott and that to me is really exciting because we're going through this transition. It's great to witness it."
Gossage also is a proponent of NASCAR's new three-segment racing format.
"People always oppose change," Gossage said. "Before the first race…'It's the worst idea…I'm never going to watch another race in my life'…give it a chance. After watching it, I think it's great. You've got really hard racing and they're trying strategies to be at the front of the pack when those first and second segments come to a close.  I think it's fascinating. At the end of the day, you've got a guy standing in Victory Lane celebrating. That's all you can ask for."
ODDS AND ENDS
Through the generosity of driver guests Dale Earnhardt Jr., William Byron and Graham Rahal, the trio helped raised more than $7,000 for Speedway Children's 
Charities Texas through Thursday's No Limits Luncheon. The money was raised through a VIP ticket, which included a signed Milano cowboy hat by all three drivers and a photo with them, as well as silent auction tickets for various signed items by them. … Texas Motor Speedway unveiled its 2017 bobblehead series before the sold-out crowd of nearly 600 with the life-size versions of the drivers. On the NASCAR side, Danica Patrick is the bobblehead promotion for next Sunday's O'Reilly Auto Parts 500 and the Kevin Harvick bobblehead will be available for November's AAA Texas 500. Graham Rahal had the honor of unveiling his own bobblehead that will be featured for June's Rainguard Water Sealers 600 Verizon IndyCar Series race. Gossage surprised the crowd by giving all attendees a Danica bobblehead, in which 30,000 are scheduled to be distributed next Sunday. … Texas Motor Speedway announced that legendary musician Ozzy Osbourne
| | |
| --- | --- |
| | |
and his son Jack will serve as honorary Race Directors for next Sunday's O'Reilly Auto Parts 500 Monster Energy NASCAR Cup Series race. It will be the first NASCAR race ever attended by Ozzy and the duo is scheduled to film an episode of their show "Ozzy and Jack's World Detour" that airs on the History Channel during the visit. Ozzy and Jack sent a video from the road to visit with the crowd at the No Limits Luncheon. …Texas Motor Speedway unveiled the layout for Robby Gordon's Speed Energy Stadium Super Trucks that will be part of June's Rainguard Water Sealers 600 INDYCAR/NASCAR doubleheader. (Click here to view layout.) The trucks will run up pit road, turn onto the quarter-mile track located in the infield ballfield, down the frontstretch and then jump into the South Paddock segment that has a figure 8 layout with another jump. The series will be part of the Texas Off-Road Ruckus in the infield Friday and Saturday of that race weekend and it will include a show truck area, vehicle obstacle course and mega-truck ride alongs. The Super Trucks and Ruckus are free with the race day tickets, and the Super Trucks competition will be held before and after the Rainguard  
Water Sealers 600 race. …Rainguard Water Sealers, Texas Motor Speedway's new entitlement sponsor for June's Verizon IndyCar Series race, had some fun with the rain issues the speedway endured last year during its races as well President Donald Trump's "Make America Great Again" slogan. The company, based out of Newport Beach, Calif., gave all the guests red ball caps with the slogan, "Make TMS Dry Again." Please note that this is not FAKE NEWS.